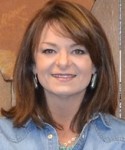 Email
-
Owner - Agent
Born in Wellington and raised in Amarillo, RayAnn McKay is a graduate of Tascosa High School and West Texas A & M University. She began her professional career 1985 as a Bank Teller for Amarillo National Bank and finished her banking career as Assistant Director of Marketing in 1994. From there she enjoyed positions as a Volunteer Manager in the Non-Profit sector, owner of a Pet Services Company and work in Commercial Print and Retail Sales.
In 1998, RayAnn joined Nationwide Insurance as a Sales Agent in the Amarillo Call Center in order to take advantage of their Education Assistance Program...never intending to stay in the Industry. Upon finishing her degree in 2000, RayAnn promoted to Industry Specialist in the Training & Development Division of Nationwide Insurance. At the end of her tenure there, she held a Supervisory position in the Service Center. One of RayAnn's greatest loves was the opportunity to contract as a Guest Instructor at Amarillo College in the Business and Industry Center, where she taught Customer Service, Management, Time Management and other business related courses. This experience also led her to write curriculum for, and teach, a couple of courses at Frank Phillips College here in Dalhart.
In August 2011, RayAnn married Mark McKay and moved to Dalhart. With this marriage, RayAnn gained two incredible 'bonus daughters', Kelsey and Chloe. It was in October of the same year that RayAnn accepted a position with Bing Seal, for whom she worked until his retirement in March 2012. She then continued with State Farm Corporate until she and Mark purchased Hometown Insurance from Paul Henderson in June of 2012.
Over the years, RayAnn has volunteered for numerous Non-Profit organizations in Amarillo including United Way, Don Harrington Discovery Center, Olivia's Angels, Amarillo Junior League and Amarillo Downtown Kiwanis Club. She now proudly serves as a Trustee of Central United Methodist Church and as a Board Member for the Dalhart Chamber of Commerce, United Way of Dallam & Hartley Counties and CareNet Pregnancy Center of Dalhart.
RayAnn has a true passion for animal rescue, home remodeling, yard work, finding and repurposing antiques & other oddities, hot air ballooning, extreme adventures, classic cars and fishing...to name a few.
As for her career, RayAnn will tell you that she absolutely loves what she does. In her mind, she is not in the sales business. Rather, she is in the business of helping others through education and service.